Chris Osborne to Show at Reading Room Gallery and Audrain 2022
ON VIEW
September – November 2022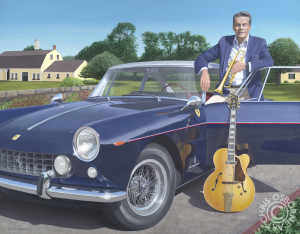 April 8, 2022. Reading Room Gallery is pleased to announce that American realist painter Chris Osborne will be showing her  paintings of film and music stars and their favorite cars in August. The exhibit consists of approximately ten acrylic paintings, measuring between 20 x 40 inches.
Chris turns the celebrity culture equation around. She depicts our movie and music stars – seen as objects through the public eyes – with their collectibles. With this unexpected juxtaposition, we are able to humanize these personages. Who knew that Marilyn Monroe actually loved her pink Buick? Or that Janis Joplin had her Porsche painted a marvelous floral composition? Chris is currently working on a large scale painting of Bob Marley and his beloved 1974 BMW.
Chris' art can satisfy a craving for two of life's favorite things – cars and music or movie stars.